Date

Holiday

Description

Jan. 1 +

el primero de enero

New Years Day
Año Nuevo

Jan. 6

el seis de enero

Feast of Epiphany
Día de los Santos Reyes
The three kings bring gifts to the children. End of the Christmas festivities. A rich, twisted bread with a doll hidden inside called roscas de reyes is sold.

Jan. 17

el diecisiete de enero

Feast of San Antonio Abad
Día de San Antonio Abad
Honors animals. Pets and livestock are decorated with flowers and ribbons and taken to church to be blessed.

Jan. 20

el viente de enero

Feast of San Sebastian
Celebrated by the Mixtec indians in Pinotepa Don Luis near Pinotepa Nacional.

Feb. 2

el dos de febrero

Día de la Candelaria
Streets are decorated with lanterns and there are fiestas, parades, and bullfights. Plants, seeds, and candles are blessed.

Feb. 5 +

el cinco de febrero

Constitution Day
Commemorates the constitutions of 1857 and 1917.

Feb. 24 +

el vienticuatro de febrero

Flag Day
The week before Ash Wednesday, usually late Feb.
Carnival
A five-day celebration beginning the weekend before Lent. Food, music, dancing. This is big in Barra de Navidad, Jalisco.

Mar. 17

el diecisiete de marzo

Día de San Patricio


Day of St. Patrick

Honors the patron saint of towns with that name, such as San Patricio Melaque, Jalisco, where they have bullfights, fireworks, etc..

Mar. 19

el diecinueve de marzo

Día de San José


Day of St. Joseph

Honors the patron saint of towns with that name.

Mar. 21 +

el vientiuno de marzo

El Cumpleaños de Benito Juárez

Birthday of Benito Juárez

A Zapotec indian born in Guelatao, Oaxaca, who became governor of Oaxaca and president of Mexico.
Easter Sunday +
is the first Sunday
after the full moon
on or after March 21.
Holy Week
Semana Santa
The week ending with Easter Sunday. A major Mexican holiday with many celebrations in most every town. Many Mexicans go on vacation at this time.
about April 26
to about May 10
Fiesta de Mayo
Manzanillo's main celebration with sports events, art exhibits, parades, concerts, native dances, carnival.
April 30

Día del Niño


Childrens' Day

Celebrated in schools with gifts, cakes, candies, piñatas and festivals.
May 1 +

Primero de Mayo

Labor Day

Workers parade through the streets.
May 3

Día de la Santa Cruz


Day of the Holy Cross

May 5 +

Cinco de Mayo/
Batalla de Puebla


Battle of Puebla

The French invasion was defeated at Puebla in 1862. The French were there to collect on a debt but also had designs on establishing an empire in Mexico. This holiday is actually celebrated more by latinos in the U.S.A. than in Mexico.
May 10 +
Mother's Day
May 15
Feast of San Isidro Labrador
New seeds and animals are blessed.
June 1 +

Día de la Marina

Navy Day

Celebrated in Mexican seaports such as in Puerto Angel and Puerto Escondido.
June 1
Feast of Corpus Christi
Celebrated in various ways.
June 24
Saint John the Baptist Day
Celebrated by dunking and throwing water on one another
June 29
Día de San Pedro
Patron saint of San Pedro Amusgos near Pinotepa Nacional. Religious processions and dancing.
The two Mondays following July 16

Lunes del Cerro


Guelaguetza Dance Festival

Dates back to pre-Columbian times, celebrated in the city of Oaxaca. Guelaguetza is a zapotec word meaning to participate and cooperate. [Link to more information]
July 25
Feast of Santiago
Patron Saint of Pinotepa Nacional. Celebrated in some places with Mexican-style rodeos charreadas.
Aug 5

Día del Pescador

Fisherman's Day


Celebrated in Puerto Angel.
Aug 15
Feast of the Assumption of the Virgin Mary
Celebrated with religious processions
Aug 26
Feast of San Agustín
Customary to prepare chiles en nogada.
Sep 14

Día de Charro


Cowboy Day

Celebrated throughout Mexico.
Sep 15
Independence Day
In the evening, mayors reenact Father Hidalgo's Grito de Delores from city hall balconies.
Sep 16 +
Independence Day
In 1810, Father Hidalgo y Costilla and his followers initiated an uprising against the Spanish.
1st Sunday
Oct.

Virgin of the Rosary

Virgen de la Rosario

Celebrated in San Pedro Amusgos near Pinotepa Nacional. Religious processions and dancing.
Oct. 1

Día del Angel


Day of the Angel

A large procession, fireworks, and dancing honors the patron saint of Puerto Angel.
Oct. 4

Día de San Francisco


Day of St. Francis

Honors the patron saint of towns with this name.
Oct. 12 +

Día de la Raza

Columbus Day


Celebrating the arrival of Christopher Columbus on the continent.
Nov. 1

Día de Muertos Chiquitos,


The Day of the Little Dead,


Día de Todos Santos


All Saints' Day

Begins the celebration of Días de los Muertos by honoring the souls of children.
Nov. 2


Day of the Dead


All Souls' Day

A festive celebration honoring the departed. Graves are decorated with flowers and food.
Nov. 6-28
(approximate)

Puerto Escondido's
November Festival

An annual event featuring beauty contests, sailfishing tournament, surfing competition, native dancing, races, art exhibitions, music.
Nov. 20 +
Anniversary of the Mexican Revolution
In the revolution of 1910-17, revolutionaries overthrew the dictatorship of General Porfirio Díaz.
Nov. 29
Día de San Andres
Patron saint of San Juan Colorado near Pinotepa Nacional. A Mixtec celebration with church services and dancing.
Dec. 1
Inauguration Day
Occurs every 6 years: 2000, 2006, etc.
Dec. 12

Día de Nuestra Señora de Guadalupe

Feast of the Virgin of Guadalupe




Mexico's patron saint
Dec. 12 +
Flag Day
Honoring the flag of Mexico.
Dec. 16
Las Posadas
Candlelight processions celebrating Joseph and Mary's search for shelter in Bethlehem. Celebrations continue through January 6.
Dec. 18
Virgen de Soledad
A fiesta honoring Oaxaca's patron saint and protector of fishermen. Celebrated in Puerto Escondido.
Dec. 23

Noche de Rabano


Feast of the Radishes

Celebrated in Oaxaca. Carved radishes are displayed, buñuelos are served, ceramic plates are smashed in the streets.
Dec. 25 +

Navidad

Christmas


During the week before Christmas are candlelight processions, parties, and piñatas filled with candy and toys. This is a major holiday period and vacations are often taken at this time.
+= National Holiday
El Día de los Muertos
El dia de los muertos

http://www.lchu.net/Graphics/AGIF/S/skeleton_wearing_sombrero_md_clr.gif
True/False
A Cemetary Decorated for el Dia de los Muertos
http://farstrider.net/Mexico/Muertos/images/Cemetery/ManAtCemetery.jpg
Cierto: The Day of the Dead has elements of the Aztec religion and Spanish Catholicism.
Falso: This is a very sad day for all families because their dead ancestors come back to them.
Falso: Pets and famous people are usually not included in this celebration.
Cierto: In order to refresh themselves, water and towels are placed around the picture.
Falso: Mort of this celebration takes place in the house, never in other places throughout the city.
Cierto: People dress up as skeletons.
Cierto: Sometimes paying for this holiday costs a whole month's paycheck.
Falso: Incence is used to scare the deceased back into their graves.
Cierto: The food and drinks are reminders of the good times the person had.
Cierto: It is good to have flowers during this day because they are beautiful
Vocabulario
Velas- candles
Calacas- skulls
Esqueleto- skeleton
Incienso- Incense
Pan de muerto- Day of the Dead bread
Ofrenda- Altar
Altar (eng.)- Place to worship the dead.
Flores- Flowers
Cementerio- Cemetery
Tumbas- Tombstone
Pan- bread
Sugar Skulls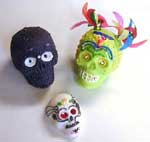 http://lib.store.yahoo.net/lib/mex-grocer/3skulls.jpg
COLORFUL SUGAR CANDY SKULLS

This is a great activity to do with kids, particularly if you explain the holiday to them and make a small altar in your home. The recipe takes less than an hour to prepare. You can do most of the work ahead of time, and then bring it out at the last minute. Then everyone can make their own skulls and paint them together!

2 cups powdered sugar
1 egg white
1 tablespoon of light corn syrup
1/2 teaspoon of vanilla
1/3 cup of corn starch
Blue, green, red and yellow food coloring
1 fine paintbrush

Sift powdered sugar. Mix egg white, syrup and vanilla in a dry, clean bowl. Mix sugar into wet mixture gradually. Mix with fingers until the mixture forms a ball.

Sprinkle cornstarch on table or board. Put the mixture on the table and shape into smooth, manageable ball. Wrap tightly in plastic and chill until ready to use. (Mixture will keep for months.)

Use plenty of cornstarch when making skulls or other shapes. When the figures are dry, color them as you wish.
http://www.arteenbarro.net/main/images/panmuerto.jpg
PAN DE MUERTO (DAY OF THE DEAD BREAD)
The famous pan de muerto (bread of death) comes in the shape of human figures, alligators, lizards, and other animals - but most often skulls and crossbones or teardrops and crosses, gaily decorated with colored sugar crystals.

The following recipe is a typical modern version of the pan de muerto. Like the European altar breads, it was originally made with flour, yeast, eggs, sugar, and some aromatic flavoring like orange-blossom water. Today Mexican home bakers often enrich and sweeten the bread with condensed milk.

Yield:

3 plain round loaves (about 6 inches across) or 2 decorated loaves (about 7 inches across)

2 envelopes dry yeast
½ cup lukewarm water

3½-4 cups all-purpose flour (or more as necessary)
½ teaspoon salt
9 Tablespoons (1 stick plus 1 Tablespoon) softened butter cut in small pieces, plus additional for greasing
3 eggs (2 for dough, 1 for glazing loaves)
3 egg yolks
7/8 cup (half of one 14-ounce can) condensed milk
1 Tablespoon orange flower water
Sugar (or colored sugar crystals if desired) for sprinkling loaves

In small bowl, dissolve the yeast in the water and let sit in a warm place for 5 minutes. Make a sponge by stirring in 4-5 tablespoons flour. Cover with a damp towel and let sit in a warm place until full of bubbles and about doubled in bulk, roughly 45 minutes.

Combine a scant 3½ cups flour with salt. Place in large mixing bowl or on a pastry board or clean counter. Cut or rub in the butter with pastry blender or fingers until dough resembles the texture of coarse cornmeal.

Beat together 2 whole eggs and 3 egg yolks. Have ready the condensed milk and orange flower water. Gradually add these ingredients to the dough, working them in with fingertips. Add the yeast sponge and work it in, adding flour as necessary to make a soft but kneadable dough. Knead for about 10 minutes, until smooth and silky. (Alternatively, use dough hook of electric mixer.) Lightly grease a large bowl with butter and place dough in it, turning to coat both sides with butter. Let sit in a warm place, covered with a damp cloth or plastic wrap, until doubled in bulk, about 1½-2 hours.

Punch the dough down. If not making a decoration, shape into 3 equal-sized loaves. Or to make 2 decorated loaves, proceed as follows: Cut off about ¼ of the dough and set aside. Divide the rest into 2 equal portions, shaping each into a ball. Place side by side on a greased and floured baking sheet, remembering that they will expand in baking. With remaining dough, shape skulls and crossbones: First divide dough into 4 parts. Roll 2 pieces between your palms into long, narrow strips for crossbones. Cut each in half. Crisscross 2 strips over each loaf. Shape remaining pieces into 2 small balls for skulls. Lightly press them onto the loaves just above the crossbones (if you have difficulty getting them to stick, make gashes in the loaves with a small sharp knife and press the balls into the gashes). Lightly cover with damp towels and let rise in warm place until doubled in bulk, about 1 hour.

Preheat oven to 375°F. Beat the remaining egg and brush lightly over loaves and decorations and bake 40 minutes. Sprinkle the loaves with sugar and return to oven for about 1 minute to melt.